Goodbye Gotham, bonjour Paris … In evocation of twenty highly productive years in New York, Franck Amsallem has recorded an album as a sort of adieu to the american megapolis, and asserts with a brilliant quartet that jazz as he conceives it can be played just as well in Paris now.
Having gone to study in the United States in 1981, obtaining his diploma at the Berklee College of Music two years later, Franck Amsallem spent two decades as a professionnal jazz musician in New York, where he played with many of the greats, led his own groups and recorded a serie of acclaimed albums with major jazz musicians. For twenty years the Big Apple nourished, inspired, overwhelmed, transported, exhausted him. The permanent creativity keeping pace with the urban intensity, the pressures of a city that never sleeps combined with the necessity of making a living, the density of the number of musicians and the level required, all this contributed to shaping his technique, to forging his style and to inspiring his art. In 2001, exactly twenty years to the day when he first set foot on american soil, Franck Amsallem made the decision to return to France, without desavowing what his years in New York had given him.
Having become well established on the parisian scene since then, Franck Amsallem assumes his role in jazz in France today while remaining strongly attached to the values he learned in the States and the way in which jazz survives there, and is firmly rooted in tradition without being confined by it, combining a spirit of play with collective energy, the taking of risks in improvisation with a certain instrumental excellence. After two albums of standards in which he explored his talents as a singer, his new album Gotham Goodbye features original compositions, signaling his return to a leading position in french jazz.
Inspired by the international quartet of younger musicians he has selected and who prove their engagement in this music and whith whom he is proud to share his experience, he has devised an entirely new repertoire of original compositions, comparable to those that made his reputation at the beginning of the 90s, and consistent, with the formal preoccupations that inspire jazz players and improvisers in Paris as in New York today.
From odd metrics to revamped latin rhythms, from lyrical compositions to funky grooves, intense ballads to straight-ahead swing, dream-like moods to dizzying unisons and without forgetting a quirky blues, Gotham Goodbye show-cases a serie of works that are far removed from simple pretexts for improvisation but worlds in themselves, and invested with the personalities of those inhabiting them : the tenor saxophonist Irving Acao who's playing is both voluptuous and fleet, gifted with a tone of remarkable richness, and who reveals himself to be a soloist with formidable phrasing. Providing a dynamic foundation for the group, Viktor Nyberg imposes himself as a bassist with an ironclad presence. The vivacity of Gautier Garrigue's drumming never alters his sense of color, ever quick to swing while propelling the collective play with his confidence and his impulses.
Driving this high-flying quartet as much as he challenges and stimulates it, Franck Amsallem reminds us just what a formidable pianist he is, combining in a personal style the influence of greats from Bud Powell to Keith Jarrett by way of Thelonius Monk, Herbie Hancock and Chick Corea. His touch biting or sensual, incisive in attack but unpredictable in his phrasing, he transforms each solo into a highlight.
Vincent Bessière (translation Jerome Reese)
---
Track listing
From Two to Five 5'45
A Night in Ashland 8'16
Gotham Goodbye 6'41
Last Night When We Were Young 5'42
Baton Rouge 4'22
Standard Form 7'01
In Memoriam 7'05
From Twelve to Four 5'46
Hamsa 7'14
All compositions by Franck Amsallem except #4 by Harold Arlen & Yip Harburg.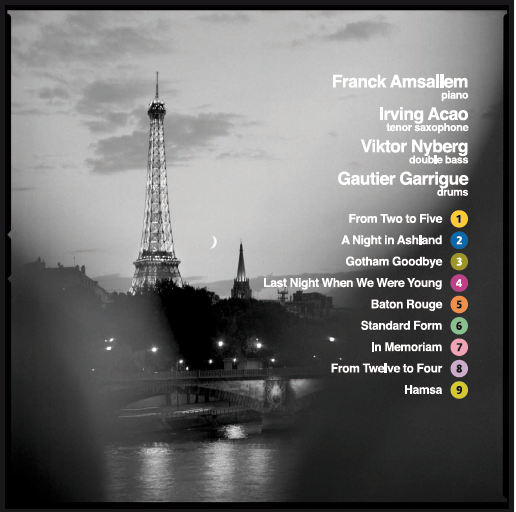 ---
Audios
♫  In Memoriam, dédié à Michael Brecker :
♫  Last Night When We Were Young :
---
Personnel
Irving Acao, saxophone ténor
Franck Amsallem, piano
Viktor Nyberg, contrebasse
Gautier Garrigue, batterie
Recording, mix and mastering : Alban Sautour
Cover photo : Philippe Lévy-Stab
---
Trailer